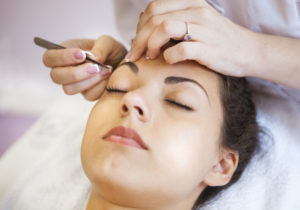 Eyes are the gateway to the soul…
Lash and brow tinting
Brow shaping
Lash Lifting
LASH & BROW TINT 
Frame your face with sculpted brows and make your eyes pop!  Tinting your eyelashes and brows is a quick and easy way to create dramatic, long-lasting results you'll love. Our professional tint formula emphasizes your eyes, saves you time in the morning and looks so natural. Tinting can last about 4 weeks.
A brow tint is an awesome alternative to filling in your brows daily, because the color grabs onto the hair you didn't even know you had, making them appear fuller effortlessly.
A lash tint does the same thing; it will define and darken any shade of hair to give you a fuller looking lash line! However, this is not a replacement for mascara.  A lash tint just darkens your already existing lashes.
Whether it is a lash or brow tint, the results last for about a month. The use of oil based moisturizers or other products may break down the tint and cause fading a little faster.
LASH LIFTS
This keratin treatment provides a long-lasting lifting, curling, and boosting effect to natural lashes which lasts between two to three months.  As you enjoy 60 minutes of relaxation time while your stylist applies the treatment, the high performance formula will revolutionize your look, and transform your morning makeup routine – brightening and opening the eye area, which will ensure you look instantly younger and revitalized, no matter how many hours of sleep you've had!
Caution-Contraindications
This is not recommended for:
Highly sensitive eyes.
Lashes 3/4″ or less.
Prior history of eye or lash irritation from lash extensions, lash lifting or tints.