Erica L. Eickhoff, LMP, NMT, CMS-CHt
LIC #: MA00007811
LIC #: HP6055817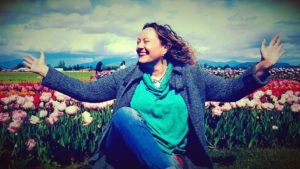 Erica is a Licensed Massage Therapist, NeuroMuscular Therapist, Certified Clinical Hypnotherapist, and Fellow of the International Board of Hypnotherapy. She also studied Physical Therapy in her native Bolivia. 

 Erica became a Licensed Massage Therapist in 1994. Since then she has split her time between her practice, continuing her education and teaching post-graduate workshops. 

 Born and raised in La Paz, Bolivia, she grew up in a culture that believes in the power of the natural world. Andean medicine is steeped in ancient traditions that see the importance of treating the body, mind, and spirit as one unit. Erica constantly seeks avenues of healing that directly involve our own energies and abilities. to heal from within. She is warm, caring and in-tune with her patient's needs. She understands that pain is not only physically incapacitating but that it also has an emotional component. 

 While in Bolivia, Erica studied Physical Therapy, bringing a therapeutically balanced viewpoint to the care she provides. As a seasoned therapist, she blends her skills and talents to engage your body's inner wisdom in restoring and maintaining a balanced state of health and well-being. 

 Throughout her more than 20 years in the medical field, she has been fascinated by the impact of thoughts, emotions, and belief systems on health, wellness and disease. As a seasoned therapist and mentor, she blends her skills, talents, and intuition to teach you how to engage your body's inner wisdom to achieve ultimate transformation. Erica has the unique gift of empowering her clients through the process of self-awareness. She loves seeing the sparkles of the "aha moment" in her clients' eyes as they embrace their truest selves and the splendor of their infinite potential. 

 Erica is not shy about following her dreams, embraces leaps of faith, and lives her life in a state of radical transformation. She believes that each and every one of us is the master of our own destiny, and that we have all the tools we need to live the life of our dreams. We just have to be open to the possibility. 

 She constantly thinks outside the box. Being bi-cultural and bi-continental gives her a unique perspective in working with individuals of different backgrounds. She is fluent in English, Spanish and French. 

Erica specializes in: Treatment/Orthopedic Massage, CranioSacral Therapy, Neuro-Muscular Therapy, Intra-Oral Therapy, Myofascial Release, Abdominal Massage, Healing From the Core, Advanced Energy Dynamics. 

 As a Certified Clinical Hypnotherapist, she specializes in: Integral Hypnotherapy, Neuro-Linguistic Programming (NLP), Natal Regression, Inter-Life Regression, Past-Life Regression, Medical Support Hypnosis, Guided Imagery.
Meet our talented Master Estheticians:
Kiva Hampton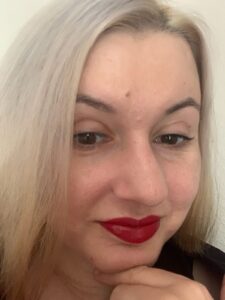 Kiva is a licensed master esthetician and has been practicing since 2014. She believes in taking care of clients needs from head to toe. She is proficient in laser modalities such as laser hair removal, tattoo removal, IPL, sublative resurfacing using radio frequency, and PRP facials. She has thousands of hours of experience performing relaxing European 60 and ninety minute facials. She is experienced in microneedling as well as all levels of chemical peels depending on the clients needs. Kiva is also experienced in body contouring. She believes in creating wellness plans by working together with the patient to achieve their skin care and body contouring goals. Kiva has a holistic philosophy around skin care, she prefers cruelty free skin care with gentle ingredients preferably derived from nature. She loves to educate and be an active partner with her patients journey toward optimal results.
Tina Dang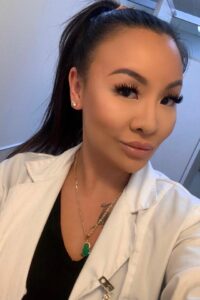 Tina is a Master Esthetician who loves to connect with her clients and provide as much knowledge and assistance as possible to aid in long sustaining results. She is certified phlebotomist who also specializes in advanced treatments such as body contouring and laser hair removal, and continues her education at all opportunities. As the industry grows and evolves, Tina enjoys staying current with new ideas and trends in order  to deliver the best specialized treatments. She focuses on darker pigment tones; especially Asians and Hispanic but still diversifies her techniques with everyone through all walks of life. When she isn't traveling the world or napping with her dog, she enjoys exploring local hole in the wall food spots. 
Meet our fabulous office staff!
Karin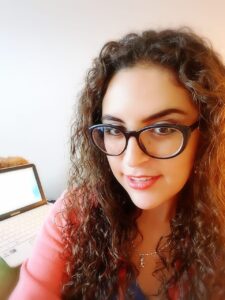 Karin is our marketing and back office queen. In her free time you will find her exploring her acting career and dancing Bolivian Folk music. She loves to bake and specializes in her famous "Alfajor".